Our People
---
---
Get To Know Our Associates
Get to know the Associates of ComNet, LLC. We believe that we have assembled a team with the knowledge and skills to serve your communication needs.
Mindy Kemper, President / Human Resources
Mindy was born and raised in Muncie, Indiana and attended Ball State University. She earned a Bachelor of Science in Food Management and graduated with Department Honors in May of 1993.
Mindy joined ComNet in 1998 as the Human Resources Director and is now the President. Mindy's primary duties include recruiting, interviewing and hiring of agents for our call center. In addition she maintains all the employee records including the performance bonus, attendance bonus and monitors calls for quality control. She processes payroll, handles accounts payable and all financial duties.
Mindy enjoys spending time with her husband, their boy/girl twins and their dog Lexie. She is an active member of the Muncie Mother of Twins Club. Being a member of MOTC consists of working all home concession stands for Ball State University Football and Basketball games along with other special events. This is a wonderful way to support the club and the local university. She also is a big supporter of her children through Best Buddies, the Special Olympics and volunteers with the Very Special Prom. This is an opportunity for students in Delaware County with Special Needs to experience their own prom.
Contact Mindy via email at mkemper@comnetmessage.com
Tom Kemper, Vice President / Sales - Marketing
Tom was born in Muncie, Indiana but grew up in Greenfield, Indiana returning to Muncie to attend Ball State University. Tom earned a Bachelor of Science degree in Graphic Arts Management & Printing Technology in July 1994.
Tom began with ComNet in 1999 as the IT Systems Manager and is now its Vice President. Tom's duties include sales and marketing plus installing, maintaining and trouble-shooting all the company's computers.
Tom also installs and maintains all of the file servers, network hardware and software that keeps the entire system working properly. As the Information Technology specialist he also creates and provides detail billing and the many custom reports that various clients require.
Tom married his wife Mindy in October 1994 and now they have a set of twins who are now in their teens. I enjoy being with my wife and our boy/girl twins. I enjoy wood working, bowling, fishing, working in our yard and re-building computers in my free time. As the father of twins, I help out with the Muncie Mother of Twins Club whenever they need help working the concession stand at the Ball State University home games.
Contact Tom via email at tkemper@comnetmessage.com
Vivian Tunney, Accounts Receivable
Vivian was born in California but has lived most of her life in Muncie, Indiana where she graduated from Northside High School and attended Ball State University.
Vivian started at ComNet, LLC. in 1979 as an answering service operator and over time learned various areas in the company. Throughout the years Vivian has performed as telephone agent, billing and collections, customer service for cell phones and pagers, as well as programming of the answering service accounts. In addition she is one of three people who monitor the telephone agents to maintain the standard of excellence for quality control assurance.
In 1985 a she took the position in accounts receivable. Vivian is the primary contact for questions regarding invoices and payments and is very customer focused.
Contact Vivian via email at vtunney@comnetmessage.com
Cindy Bradley, Client Services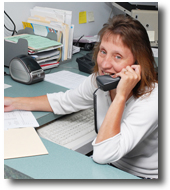 Cindy grew up in Muncie, Indiana and graduated from Northside High School. Cindy's specialty has always been in customer service.
Cindy joined ComNet in June of 1996 working primarily with pagers and voicemail. Since then her duties have grown to include billing, accounts receivable, filing and answering in the call center.
Her other duties are involved with the necessary paperwork to get new customers started. She also works with the programming department, keeps track of account numbers, available phone numbers and maintains and runs the automated credit card payments. In addition she is one of three people who monitor the telephone agents to maintain the standard of excellence for quality control assurance.
Contact Cindy via email at cbradley@comnetmessage.com
Judy Austin, Account Programmer
Judy also came to Muncie, Indiana to attend Ball State University in 1968 from a rural community in North Central Indiana. She graduated with a Bachelor of Science in Elementary Education.
Judy substitute taught before going to work full time for Ball State in the library. She retired from Ball State in 2005 and came to work for ComNet.
Judy's duties include researching client's information needs and creating scripts used by the telephone agents. These scripts guide them through handling calls in the most effective and professional manor. Programming has progressed from fairly simple text templates to very sophisticated conversational scripts using SQL databases.
Any time there is a question regarding a message taken by our agents Judy helps our agents understand client concerns, their business and specific needs.
When away from work Judy enjoys taking time for nature photography. Her son and his family live near enough for frequent visits. And she says; "There is always home maintenance work to be done when I am totally bored!"
Contact Judy via email at jaustin@comnetmessage.com
Joe Songer, Account Programmer
Joe was born and raised in Muncie, Indiana and attended Ball State University working towards a degree in Computer Science.
As an account programmer Joe is a primary contact for clients in creating and updating scripts that allow our agents to have a professional and effective conversation with callers. Joe creates scripts that address client needs in the most efficient way by taking advantage of the technology we have available while focusing on providing the caller with a satisfying experience.
When out of the office, Joe enjoys spending time with family and friends. He has many hobbies ranging from camping and disc golf to gaming and reading.
Contact Joe via email at jsonger@comnetmessage.com
Copyright © 2013 ComNet, LLC.
All rights reserved.